We did a year-long trial of SEOMATER on the effectiveness and usability of their SEO reporting and diagnostic services. Even though we came to a conclusion right away and after a couple months, even decided to become an affiliate of theirs.
Which, by the way, a very big thank you to SEOMATER for the very generous year-long free trial! Just another reason why we love Twitter Marketing and the connections you can make.
Right from the first report we ran, we had a feeling that we where going to enjoy using this service.
The interface is simple and intuitive. Making it possible to run an SEO report easily with no prior experience. The first thing you see when you land on their website is a spot to enter your URL for analysis. Enter your website address and then just wait a few minutes for your report.
Seriously. It's that easy.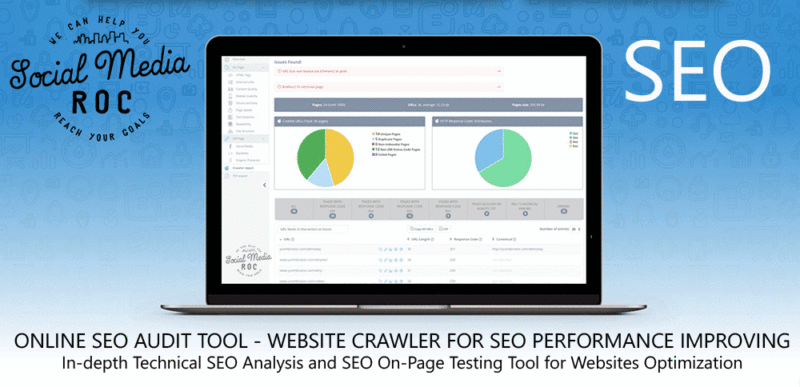 Their Tools
Seomater offers online tools for analyzing website SEO and performance including SEO audits, SEO monitoring, white label reports, embedded SEO audit widgets, and domain comparisons. Perhaps the perfect solution for a budding entrepreneur looking to get into SEO or web business looking to add another service.
Their Reports
The reports themselves are fairly detailed and give enough information about where your site may need a little tweak or may be completely missing information. It provides some basic SEO friendly info about your site. Checks your site page and Robots.txt file. Reviews your HTML tags and content quality of each page. It also lists your internal, external as well as backlinks for you so that you can see your referring URLs. Overall, a great value for some vital information affecting your site's performance!
But, Can You Fix It?
Unfortunately, if you are not familiar with web design terminology such as HTML tags, META descriptions, sitemaps, robots, etc. or more importantly how to fix the issues found within the report, you will still need to find someone who can fix or at least improve your site for you. There are a lot of people claiming to be able to fix your sites SEO and improve your sites rankings and a majority of them will probably be able to, however, we would caution you about anyone claiming to be able to get your site to page 1 of Google quickly. Google's new algorithms are much more complicated than they once were and much harder to trick. In fact, trying to trick them can actually count against you, even potentially getting your website blacklisted.
Our Advice
If you are serious about improving your sites SEO/SEM, consider something like our SEO service which can also improve conversion rates on your site. When considering other options, look for a reputable company or person for the job and avoid both the "quick and cheap" offer as well as the "too good to be true" offer, because it probably is.
If you have questions regarding your websites SEO, don't be afraid to contact us.